Transitional-Vocational Program
The Transitional-Vocational Program provides placement for teenagers aged sixteen years of age through adulthood in preparation for working and interacting in adult environments with as great a degree of independence as possible. A continuum of training and placement opportunities are available in order to accommodate individual interests, strengths, abilities and cognitive levels.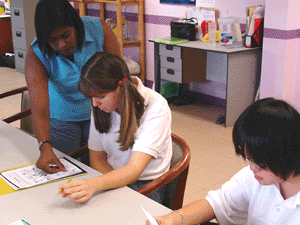 Components of the Transitional-Vocational Program include:
Social-Skills
Social-interaction skills at school, home, at work and in the community
Stress management
Self-control
Understanding and responding appropriately to criticism, sarcasm and teasing
Practicing flexibility in response to changes
Pre-Vocational
Development of positive work attitudes
Development of attention to task through completion
Following multi-step oral and written directions
Appropriate hygiene, grooming and attire
Responsibility
Real life problem solving skills
Activities of Daily Living
Money skills and management
Transportation skills
Food preparation
Laundry
Shopping
Recreation and leisure skills
Health education
Communication skills
Vocational Skill
Training and practice of theory, vocabulary and skills needed for specific job placements.
Services
Vocational skills and interests assessment
Job sampling
Supported Employment
Consultation to Employees